The Nikkei 225 Future is trading at 19,368.00 up with +0.49% percent or +95.00 point.The  Nifty Future is trading at 9,297.50 up with +0.97% percent or +88.90 point. The Hang Seng Future is trading at 24,054.00 up with +1.24% percent or +295.00 point.
TODAY'S FACTORS AND EVENTS
A decline on Wall Street dragged stocks across the world further down on Friday on concerns that the two largest economies could resume a trade war, with many financial markets globally closed for a holiday.
The euro rose and the U.S. dollar fell broadly, while crude prices traded in and out of negative territory.
London, Tokyo and New York were open Friday, and stocks were pressured lower in reaction to U.S. President Donald Trump's threat to increase sanctions on China in retaliation to its handling of the coronavirus outbreak. offered no evidence on Thursday after claiming he'd seen proof that the virus was created in a Chinese laboratory. The pandemic, which has cost tens of thousands of lives in the United States alone, sparked an economic contraction and threatens Trump's chances of re-election in November.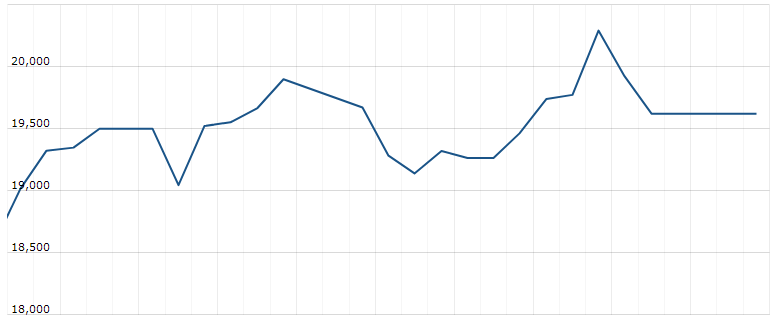 For the day Nikkei 225 is trading at

 

19,619.35

 

with a loss of

 

-2.84%

percent or

 

-574.34 

 point.the  nifty closed at

 

9,279.20

 

up with +

0.80%

 

 

 

 

percent or +

73.60

 

point. Hong Kong's Hang Seng is trading at

 

24,153.92

 up 

with +

1.20%

 

percent or

 

+285.26

 

 point.
WORLD MARKETS
For the day the Dow is trading at 23,883.09 up with +0.56% percent or +133.33 point. The S&P 500 is trading at 2,868.44 with +0.90% percent or +25.70 point. The Nasdaq Composite is trading at 8,809.12 up with +1.13% percent or +98.41 point.
In other parts of world, Japan's Nikkei 225 is trading at 19,619.35 with a loss of –2.84% percent or –574.34  point. Hong Kong's Hang Seng is trading at 24,190.23 up with +1.35%percent or +321.57 point. China's Shanghai  Composite is trading at 2,878.14 up with +0.63% percent or +18.06  point. India's BSE Sensex is trading at 31,790.68 with +1.07% percent or +337.17  point at 12:15 PM.