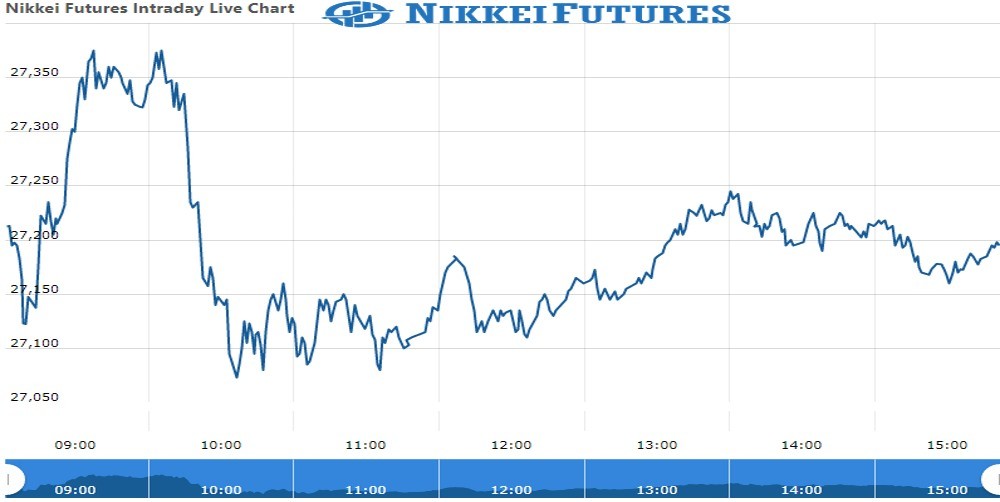 Nikkei Futures Update : 20 April 2022
The Nikkei 225 Future is trading at 27,172.50 with a loss of -0.17% percent or -47.50 point.The  Nifty Future is trading at 17,109.80 with +0.83% or +140.40 point. The Hang Seng Future is trading at 20,909.50 with a loss of –0.40% percent or -83.50 point.
TODAY'S FACTORS AND EVENTS
The Nifty50 formed 'Death Cross' on the daily charts for the first time after March 2020 which saw the index crashing towards 7,500 before bouncing back. However, technical experts do not fear a similar double-digit fall in the index, although investors are advised to trade cautiously.
PREVIOUS DAY ACTIVITY
For the day Nikkei 225 is trading at 27,217.85 with 0.86% percent or +232.76 point.the  nifty closed at 17,085.10 up with +0.75% percent or +126.45 point. Hong Kong's Hang Seng is trading at 20,944.39 with a loss of -0.40% or ?83.37 point.
WORLD MARKETS
For the day the Dow is trading at 34,911.20 up with 1.45% percent or +499.51 point. The S&P 500 is trading at 4,462.21 up with +1.61% percent or +70.52 point. The Nasdaq Composite is trading at 13,619.66 up with +2.15% percent or +287.30  point.
In other parts of world, Japan's Nikkei 225 is trading at 27,225.21 with 0.89% percent or +240.12   point. Hong Kong's Hang Seng is trading at 21,031.31 with 0.017% percent or +3.55  point. China's Shanghai Composite is trading at 3,161.87 with a loss of –1.01% percent or ?32.16  point. India's BSE Sensex is trading at 56,857.05 up with +0.63% percent or +354.67  point at 12:15 PM.