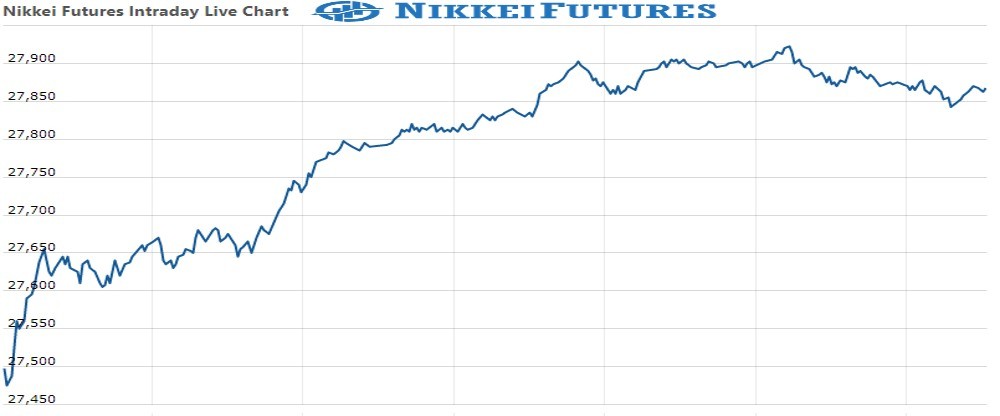 Nikkei Futures Update : 06 June 2022
The Nikkei 225 Future is trading at 27,862.5 with +0.42% percent or +117.5 point.The  Nifty Future is trading at 16,502.5 with a loss of -0.62% or -102.8 point. The Hang Seng Future is trading at 21,256.0  with  a loss of -0.03% percent or -6.5 point.
TODAY'S FACTORS AND EVENTS
Despite government's supply side interventions to curb price pressures, the foreseeable inflation trajectory remains skewed closer to 7%. We expect the MPC to revise upward the inflation trajectory by 70-80bps accounting for the upside price pressures. The GDP estimates may remain unchanged for now. From the policy withdrawal perspective, RBI in the last two months has moved quite aggressively and swiftly. The weighted average overnight rates have risen by 80-90bps since the April MPC policy. The recent countercyclical government measures has clearly provided room for the MPC to avoid disruptive tightening. We expect a repo rate hike of 35-40bps and status quo on CRR in the upcoming June policy.
PREVIOUS DAY ACTIVITY
For the day Nikkei 225 is trading at 27,915.89 up with +0.56% percent or +154.32  point.the  nifty closed at 16,497.50 with a loss of -0.52% percent or ?86.80  point. Hong Kong's Hang Seng is trading at 21,411.73 up with 1.56% or +329.60 point.
WORLD MARKETS
For the day the Dow is trading at 32,899.70  with a loss of –1.05% percent or ?348.58  point. The S&P 500 is trading at 4,108.54 with a loss of  –1.63% percent or –68.28    point. The Nasdaq Composite is trading at 12,012.73 with a loss of –2.47% percent or ?304.16  point.
In other parts of world, Japan's Nikkei 225 is trading at 27,955.84 up with 0.70% percent or +194.27   point. Hong Kong's Hang Seng is trading at 21,340.75 up with +1.23% percent or +258.62  point. China's Shanghai Composite is trading at 3,222.33 up with +0.84% percent or +26.87  point. India's BSE Sensex is trading at 55,541.84  with a loss of –0.41% percent or ?227.39  point at 12:15 PM.