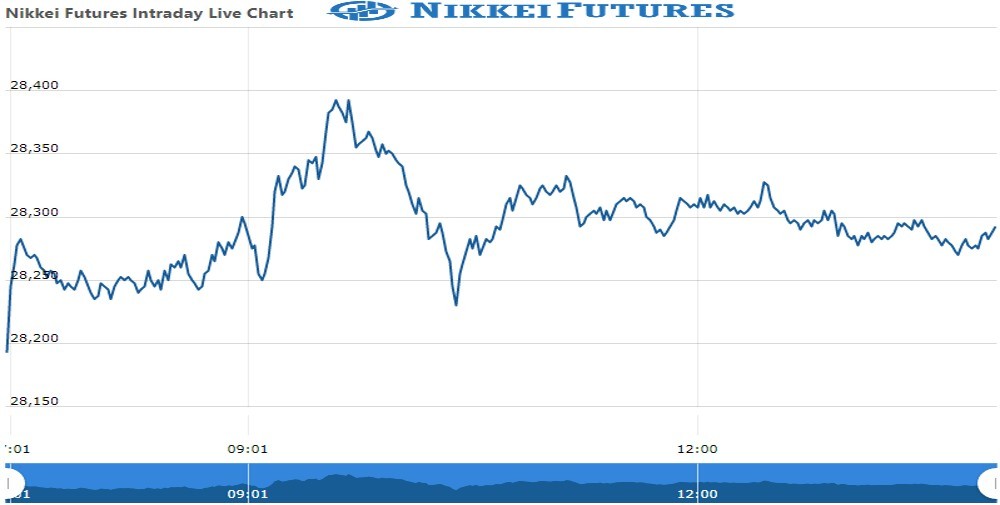 Nikkei Futures Update : 12 Sept 2022
The Nikkei 225 Future is trading at 28,287.5 with +0.34% percent or +95.0 point.The  Nifty Future is trading at 17,964.0 with +0.55% or +97.6 point. The Hang Seng Future is trading at 19,273.0 up with -0.46% percent or -90.0 point.
TODAY'S FACTORS AND EVENTS
Asian stock markets rose on Monday as investors awaited more signs that U.S. inflation is cooling, with battered technology stocks gaining the most.
Weakness in the U.S. dollar, as it retreated further from 20-year highs, also benefited risk appetite. But a market holiday in Hong Kong and China kept trading volumes in the region largely muted.
PREVIOUS DAY ACTIVITY
For the day Nikkei 225 is trading at 28,517.38 with 1.07% percent or  +302.63 point.the  nifty closed at 17,946.20 up with +0.63% percent or +112.85 point. Hong Kong's Hang Seng is trading at 19,362.25 up with +2.69% or +507.63  point.
WORLD MARKETS
For the day the Dow is trading at 32,151.71 with 1.19% percent or +377.19 point. The S&P 500 is trading at 4,067.36 with 1.53% percent or +61.18 point. The Nasdaq Composite is trading at 12,112.31 up with +2.11% percent or +250.18  point.
In other parts of world, Japan's Nikkei 225 is trading at 28,517.38 up with +1.07% percent or +302.63  point. Hong Kong's Hang Seng is trading at 19,362.25 with 2.69% percent or +507.63 point. China's Shanghai Composite is trading at 3,262.05 up with +2.40% percent or +26.47 point. India's BSE Sensex is trading at 60,140.70  with +0.58% percent or +347.56  point at 12:15 PM.