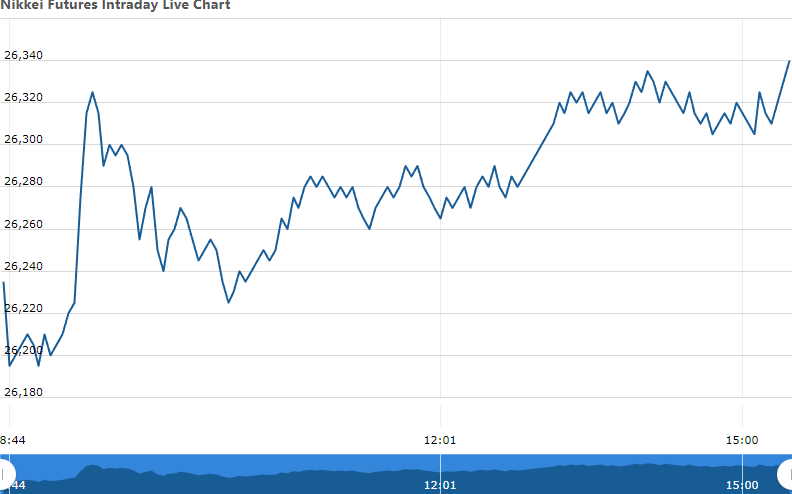 Nikkei Futures Update : 26 Dec 2022
The Nikkei 225 Future is trading at 26,320.0 up with +0.73% percent or +190.0 point.The  Nifty Future is trading at 18,116.5 with +1.41% or +252.6 point. The Hang Seng Future is trading at 19,639.0 with +0.00% percent or +0.0 point.
TODAY'S FACTORS AND EVENTS
Most Asian stock markets fell further on Wednesday as investors gauged the implications of a surprise policy shift by the Bank of Japan, with the Nikkei index extending its losses to an over two-month low.
PREVIOUS DAY ACTIVITY
For the day Nikkei 225 is trading at 26,392.79 with 0.60% percent or  +157.54 point.the  nifty closed at 17,955.55 with 0.84% percent or +148.75 point. Hong Kong's Hang Seng is trading at 19,593.06 with a loss of -0.44% or ?86.16 point.
WORLD MARKETS
For the day the Dow is trading at 33,203.93 up with +0.53% percent or +176.44 point. The S&P 500 is trading at 3,844.82 with 0.59% percent or +22.43  point. The Nasdaq Composite is trading at 10,497.86 up with +0.21% percent or +21.74 point.
In other parts of world, Japan's Nikkei 225 is trading at 26,399.33 with 0.63%  percent or +164.08  point. Hong Kong's Hang Seng is trading at 19,593.06 up with 0.44% percent or ?86.16  point. China's Shanghai Composite is trading at 3,065.40 up with 0.64% percent or +19.53 point. India's BSE Sensex is trading at 60,368.58 with 0.87% percent or +523.29 point at 12:15 PM.